Post by ahrendere on Jun 27, 2021 14:41:23 GMT -7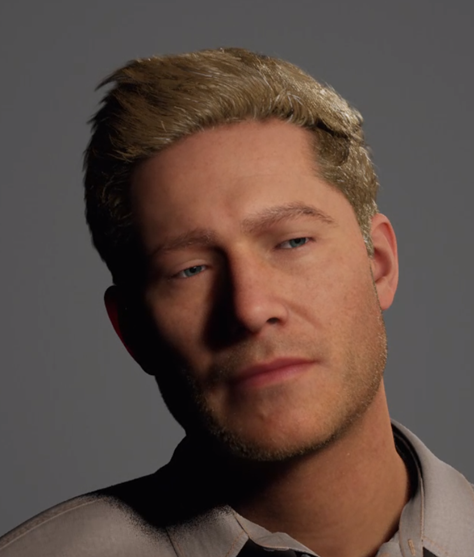 Basic Statistics

Reason or meaning of name: Parent-given, surname inherited from father's side
How'd they get it?:
Lu – Name shortening, doesn't like it
Blondie – After his hair colour, tolerates it
Date of Birth: November 13th
Zodiac: Scorpio
Species: Human (Very minor percentage of yet unknown non-human)
Gender: Male/Man/Masculine
Sexual Orientation: Heterosexual
When did they realize this?: N/A
(Experimented w/ men but never found it to work long-term)
Nationality: ¼ Scandinavian, ¾ British
Hometown:
Brighton
(
Southern England
)
Current Residence: Previously London, now Fayley Island
Previously a University Lecturer (Ancient Languages) while on Gaia
Stablehand currently (also manages finances) on Fayley Island
For how long?:
Stablehand – Less than a year
Does he like his job?:
Yes to both
If they had an element, what would it be?: Earth
Can they use it?: No
What animal best represents them?: N/A
Hand-to-Hand capability: Relatively Lacking
When did they start learning?: Teenage years (An encouraged hobby)
Weapons training: Minor training
When did they start learning?: When he came to Fayley
Who taught them?: Uncle
Physical strength: Average
Speed: Average
Planning: Good
Powers: N/A
Family
Any significant ancestors?: N/A
Grandparents (describe relationship): All deceased, good relationships
Aunts/Uncles (describe relationship): Two Uncles, One Aunt. Pleasant relationship with all
Parents (describe relationship): Both alive, good relationship
Are they still together?: Yes

Birth order:
Ana (40), Luis (36), David (35), Joshua (28)
Siblings (describe relationship):
- With Ana: Good, adores Ana and keeps in contact with her. Acted as a protective older sister
- With David: Pleasant, similar in age and grew up close to one another
- With Joshua:
Somewhat strained, mostly pleasant but doesn't keep in close contact.
Nieces/Nephews:
- Harry, 14 (Ana's only child): Good, adores Harry and keeps in contact with him alongside Ana
- Bradley, 7 (David's first child): Good, likes Bradley
- Angela, 5 (David's second child): Good, likes Angela
Children (describe relationship):
N/A (No children)
What is the character's family life like: Good for the most part
What does their family love most about them?: His sense of responsibility
Hate?: His sometimes standoffish nature
Does the family have a specific set of values?: Not really
What would their family be described like by another person?: Functional, somewhat distanced from one another at times, relatively calm
Have they ever had any pets?: Yes, many varied pets
What happened to them?: Old Age
Relationships
Are they a virgin?: No
How did they lose it?: His first long-term partner
Have they ever cheated on a partner?: No
Has a partner ever cheated on them?: Yes
How did they react?: Disappointment, Betrayal
Have they ever been married?: Yes
Divorced?: Yes
How many times have they been married/divorced?: Once
Are they in any kind of romantic relationship?: No
Who is your characters closest friend?: N/A
How did they meet?: N/A
Why do they get along so well?: N/A
Favourites
Favourite foods: Pad Thai
Least favourite food: Any meat
Favourite colours: Earth tones
Least favourite colour: Any bright colours
Music: Instrumental
Literature: Ancient Literature, particularly Herodotus
Smell: Fresh air
Feeling: Calm, Peace
Season: Spring
Pets: No preference
Place: Anywhere with a small forest or wooded area, where the sunlight filters through the rustling leaves and the warm breeze makes sure the air isn't stagnant.
Favourite sport(s): Baseball
Favourite Sayings: N/A
Possession this character values most: A copy of Herodotus' The Histories, one of the few items brought with him to Fayley
Why is it so important to them?: Luis didn't bring much with him to Fayley, but this was the first item he chose to bring with him.
Physical Characteristics
Height: 6'1
Weight: Average
Body build: Lithe, very lightly muscled
Eye Colour: Grey/Green
Glasses or contact lenses?: Yes, Contact lenses (Sometimes Glasses)
Hair Colour: Blond
Type of hair: Coarse, thick
Hairstyle: Short
Complexion and skin tone: Mostly clear complexion, pale skin
Any particular blemishes?: None noticeable
Shape of Face: Square
Scent: Ozone, crisp mint
Voice: Deep, clear
Voice Play-by: ----
Mannerisms: Polite
Health:
Healthy, no known underlying conditions
Style: Formal
How do they walk?: Confidently
What are their Nervous Tics: Rubbing chin
Usual Body Posture: Straight
Do they have any disabilities?: N/A
Speech patterns: No stuttering, clear and concise
Preferred Clothing: Semi-formal attire, informal when working
Underwear: Boxers
Shirts: Pressed shirt
Pants: Semi-formal trousers
Jackets: Smart jacket
Shoes: Brogues
Accessories: A watch from Gaia, a plain silver chain bracelet
Formal wear: Suit & tie
Sleeping wear: Loose pyjama bottoms, no shirt
Swimming wear: N/A
Intellectual/Mental/Personality Attributes and Attitudes
Did they go to school?: Yes. Received an Undergraduate, Masters, and PhD.
Where?: Gaia
What did they learn?: Undergraduate in History, Masters in Ancient History, PhD in Ancient Languages (Roman Latin)
Did they complete the curriculum?: Yes
What were their grades like?: Very good up until Undergrad, fluctuated in Undergrad, but very good in Masters and PhD.
Native language: English
Do they know any other languages?: Fluent Latin
How smart are they?: Booksmart
What is their strengths?: The Ancient World, mostly Rome and the Roman Empire
Weaknesses?: Modern technology, modern history, most modern things tbh
Manner of Writing: Formal, academic
Any Mental Illnesses?:
None known
Character's short-term goals in life: Get used to Fayley Island
Character's long-term goals in life: Find a place for himself at Fayley
How does your Character see themselves?: Bookish, isolationist
How does your Character believe they are perceived by others?: Standoffish
How self-confident is your character?: Average
What makes their self-confidence waver?: Not knowing much about Fayley as a whole
What would embarrass your character the most?:
Being wrong about something he feels he's knowledgeable on
How does your character feel about love: Would like to experience it again
About crime: Dislikes crime, unless the drawback is minimal/not harmful to anyone
Politics?: Enjoyed Gaia politics
People of a different sexuality?: Passive, doesn't mind
Different nationality/race?: Passive, doesn't mind (Potentially curious about other races)
How does your character show affection/love?: Small gestures
How does your character handle grief?: Processing it alone
What are they like when they cry?:
Quiet (more so than usual)
What can make them cry?: Loss of family, loss of stability
How does your character handle physical pain?: Quietly
Is your character typically a leader or a follower?: Leader
Are they 'big picture' or 'little details'?: Little Details
What kind of energy level does your character typically display?: Attentive, intense
Describe their sense of humor: Snarky
Hobbies: Reading, Studying, would like to develop more hobbies in Fayley
Talents: Good memory, steady resolve
Extremely unskilled at: Practical tasks
If any, what musical instruments can they play?: None
Emotional Characteristics
How does character relate to others?: Learning about them and trying to understand things from their point of view
How does the character deal with anger?: Isolating himself to work through it, or going quiet to process the anger
With sadness?: Busying himself with work
With conflict?: De-escalating conflict the best he can
With change?: Easily deals with small changes, large changes take a short amount of time
With loss?:
Busies himself with work
What does your character want out of life?: He feels as if he's achieved what he wanted to get out of life, but might be growing bored of it
What would your character like to change in his/her life?: Would like to find love again, and to understand the new way of life he has
What motivates your character?: Curiosity
What frightens your character?: Water
Are they afraid of the Dark?: No
What makes your character happy?: Studying, learning, peace and calm
Sad?: Loss, thinking on what he used to have
Angry?: Ignorance, bigotry
Aroused?: N/A
Annoyed?: Ignorance, bigotry, occasionally idiocy
Guilty?: Situational, sometimes is easily guilt-ridden – sometimes not
Is your character judgmental of others?:
No
Is your character generous or stingy?: In-between
Is your character generally polite or rude?: Polite
Optimistic or Pessimistic?: Tentative optimist
Introvert or Extrovert?: An often extroverted Introvert
Daredevil or Cautious?: Cautious
Logical or Emotional?: Logical
Disorderly and messy or methodical and neat?: Methodical, Neat
Would they rather be working or relaxing?: Working
How do they feel about animals?: Appreciates animals
They are most at ease when:
Quietly working on tasks
Ill at ease when: In an incredibly unfamiliar situation/out of his depth
What is their best quality?: His adaptive nature and willingness to learn
What is their biggest flaw?: His tendency to mope
Spiritual Characteristics
Do they consider themselves religious?:
No
Additional Notes on This Character:
- More than happy to provide guidance/advice to anyone if necessary (A consequence from when he was a lecturer)
- Had an incident with a river when young, now avoids bodies of water and has refused to learn how to swim