Post by Matsi on Jun 6, 2021 0:15:04 GMT -7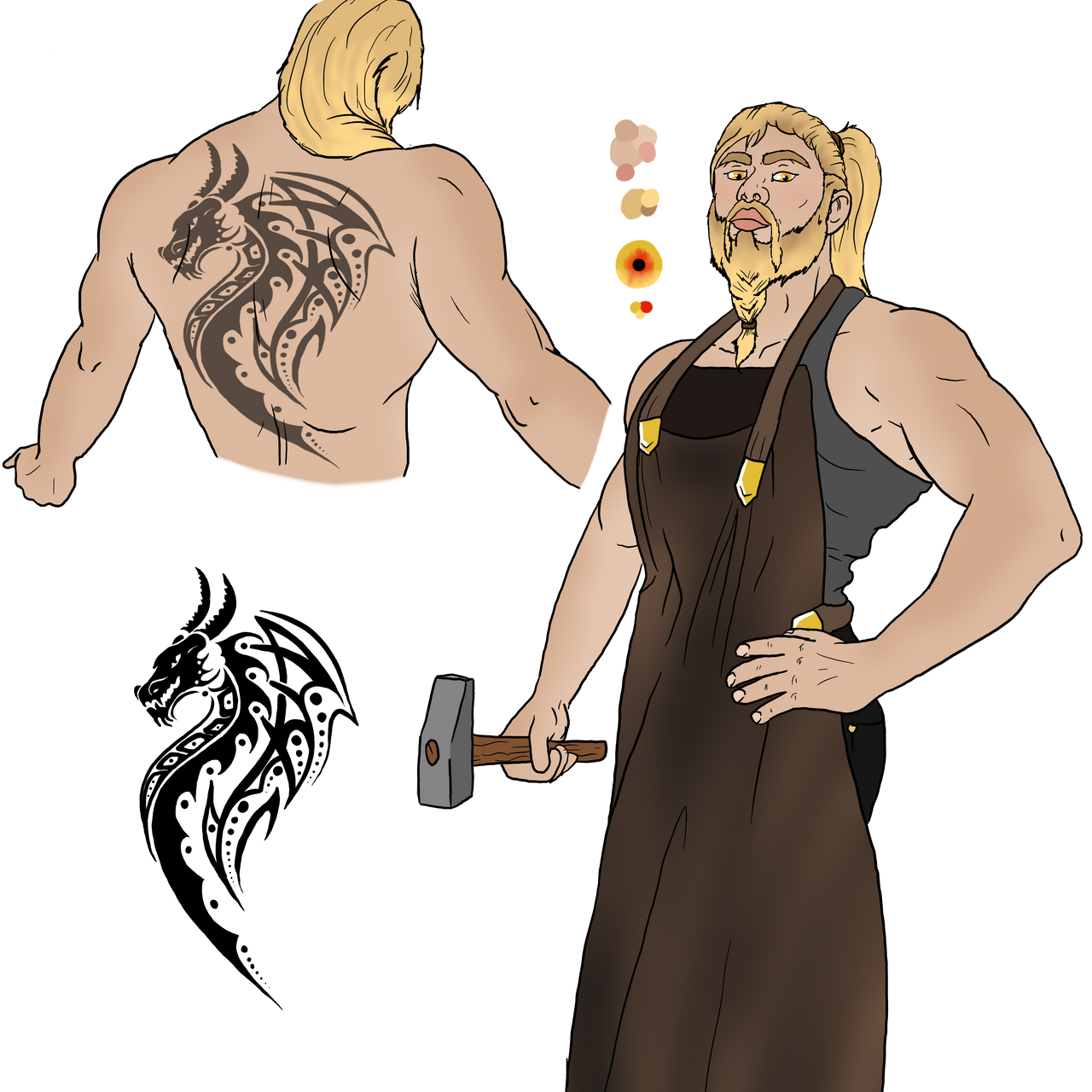 Basic Statistics
Full Name:
Kivi DragonCursed --- Formally of the OreCrown family
Reason or meaning of name:
Kivi - A common, traditional, name in the Ore Crown Mountains.
DragonCursed - His name was changed to this when he was banished.
Nickname:
Ki, Ore, Oregin
How'd they get it?:
Ki - Shortened name
Ore/Oregin - Was his dragon's name before they were fused.
Age:
106 years (Equivalent to 26 human years)
Date of Birth:
January 7th
Zodiac
: Capricorn
Species:
Dwarf - Ore Crown Mountains subtype
Gender:
Male
Sexual Orientation:
Gynesexual (Prefers femininity and elegance, regardless of legitimate birth sex)
When did they realize this?:
He believed he was Heterosexual until he was well into his 80s. After he separated with Alicia, he realized he had attraction to those that shoed Femininity, not just legitimate women.
Nationality:
Ore Crown
Hometown:
Ore Crown Mountains, Kantien (Fanlos)
Current Residence:
Fayley Island
Occupation:
Master Blacksmith, Blacksmith to the Royal Family.
For how long?:
Aprox 55 years
Do they like his/her job?:
Loves his job
Salary:
Averages about 200 gold a week, more if the Royal Family or Council has big orders or if there is an event or holiday coming up.
Abilities
If they had an element, what would it be?:
Fire
Can they use it?:
Only when in his dragon form.
What animal best represents them?:
Dragon
Hand-to-Hand capability:
Well above Average
When did they start learning?:
When he was a child.
Who taught them?:
He and his brother had professional training with the Kings Guard in the Ore Crown Mountains.
Weapons training:
Well above average
When did they start learning?:
As a child.
Who taught them?:
He and his brother had professional training with the Kings Guard in the Ore Crown Mountains.
Physical strength:
Well above average
Speed:
Slightly below average
Planning:
Average
Powers:
Average
Family
Any significant ancestors?:
Comes from a very very long line of Dwarven Kings.
Grandparents (describe relationship):
Knew none of them
Aunts/Uncles (describe relationship):
None of note -- His mother's brothers were all from a different kingdom. Rarely saw them.
Parents (describe relationship):
Kila OreCrown - Mother - Deceased from Old Age - He was closer to his mother, up until he was banished from his country.
Petaris OreCrown - Father - Rumored to be Alive - He followed his father's footsteps proudly, and did what he could to prove to be a good son to Petaris. When he was banished, though, he felt betrayed by his father.
Are they still together?:
No. Kila is deceased.
Birth order:
Kivi, Pietari
Siblings (describe relationship):
Pietari - Little brother - Pietari was Kivi's pride and joy. Everything he did, he did for his little brother. He wanted nothing more than to see him succeed in life, to grow into a fine warrior. Pietari's death still haunts Kivi's mind and soul.
Nieces/Nephews:
None
Children (describe relationship):
None
Are all children with the same partner?:
Is their relationship with their children important to character?:
Grandchildren (describe relationship):
None
What is the character's family life like:
What does their family love most about them?:
Before he was banished, his family loved his affection and care for others.
Hate?:
He sometimes forgot that he was royalty, and would treat others better than they treated him.
Does the family have a specific set of values?:
TBA
What would their family be described like by another person?:
TBA
Have they ever had any pets?:
Yes
What happened to them?:
Runedar - Dwarven Miner Pony - Kivi's first real pet. He won him in a bet, and fell in love with the crazy little pony.
Bryn - Elven Warhorse - Kivi rescued Bryn when she was a tiny foal, and he still loves her as if he is seeing her for the first time. He often jokes that Bryn is the only love he needs in his life.
Relationships
Are they a virgin?:
No
How did they lose it?:
To Alicia about a year into their relationship.
Have they ever cheated on a partner?:
N o
Has a partner ever cheated on them?:
No
How did they react?:
Who was their first crush?:
Unknown
First love?:
Alicia
Have they ever been married?:
No, but he had been engaged to Alicia.
Divorced?:
None
How many times have they been married/divorced?:
None
Are they in any kind of romantic relationship?:
None
How serious/relaxed is it?:Describe the relationship with their current partner:
N/a
How did they meet?:
Who made the first move?:
How does your character truly feel about their partner?:
When did they realize this?:Who is your characters closest friend?:
Alicia Halli-Wolf
How did they meet?:
Met at a meeting when Siegfried was still king.
Why do they get along so well?:
Don't really know. They have very different personalities, but seemed to mesh quite well.
Describe relationship with any other significant friends:
Siegfried Lionheart - Former King - Sig was the one that took Kivi in and helped him get back on his feet.
Oretigg Stonefang - He sparred a lot with Oretigg to help him prepare for the job of Kings Guard.
Titus - Apprentice - Has become very close to Titus and hopes he will succeed in life, and he wants to be there to see it.
Kaeran MonliGrae - Apprentice - As stupid as Kae is, he reminds Kivi of Pietari, and he has a deep rooted brotherly love for the idiot.
Favorites
Favorite foods:
Peanut butter and Jelly sandwiches
Least favorite food:
Cherries
Favorite colors:
Gold
Least favorite color:
Maroon
Music:
Any - Really good himself at Folk and Acapella
Literature:
Not a big reader - When he does read, prefers History based books.
Smell:
Forge Fire
Feeling:
Warm fires, or hot sands.
Season:
Winter (Loves snow, and his forge doesn't get too hot then)
Pets:
Horses.
Place:
Favorite sport(s): Favorite Sayings: Possession this character values most:
TBA
Why is it so important to them?:
Physical Characteristics
Height:
5'1'' (Tall for some subtypes of Dwarf)
Weight:
187lbs
Body build:
Dorito Shape -- Strong upper body with massive shoulders and chest. Smaller waist, with thick butt and legs.
Eye Color:
Golden with reddish centers
Glasses or contact lenses?:
None
Hair Color:
Blonde - Darker, almost sandy roots, with lighter, vibrant yellow-gold tips.
Type of hair:
Thick. Typically feels a bit wiry from sweat and forge smoke, but when it's freshly clean it's soft as silk.
Hairstyle:
Kept pretty long. Normally pulled back or braided. If there's an event going on, he tends to do something more extravagant.
Complexion and skin tone:
Fair with golden undertones. Tanned by both sun and forge along his arms and face.
Any particular blemishes?:
Small scars along arms (and a few on chest) from sparks and flying shards. None are really visible unless close to him, though.
Shape of Face:
Fairly squared. A bit gaunt from years of working himself to the core and not totally taking care of himself.
Scent:
Forge soot and Dragon Fire
Voice:
Normally perky and friendly, a bit musical. Can get very growly and deep when worked up.
Voice Play-by:
James Nesbitt
Mannerisms:
Confident when in home forge, but very mild and almost timid when out and about.
Health:
A bit Malnourished, but healthy otherwise
Style: (Elegant, shabby etc.)
Minimalistic, working man.
How do they walk?:
Square and strong. Has a powerful air about him when he walks anywhere.
What are their Nervous Tics:
Clenches and unclenches his hands when nervous or worked up.
Usual Body Posture:
Tall with shoulders back and head high. Even if he isn't feeling confident, he tries to show confidence at all times.
Do they have any disabilities?:
Has some issues with anger and nerves due to his dragon's influence.
Speech patterns:
When tense - Smooth and a clear attempt to speak clearly and properly. When worked up or relaxed - Heavily accented, thick and a bit messy. Sometimes he will throw random Dwarven words in the middle of his full common sentence.
Preferred Clothing:
Tank top and black leather pants. Typically his leather blacksmith's apron as well.
Underwear:
Typical briefs or none
Shirts:
Tank tops favored, will wear loose fitted button ups.
Pants:
Work pants, normally leather. Favors black.
Skirts:
Will wear kilts during ceremonies, in his clan's traditional style.
Jackets:
Typically doesn't wear any jackets - Has one fur jacket and one black leather one.
Shoes:
Large, heavy work boots.
Accessories:
None - Used to have his ears pierced in multiple locations, but took them all out when he began blacksmithing.
Formal wear:
Traditional Ore Crown Outfit - Button up shirt with furred cloak and a Kilt decorated with gold, silver, gems and fur.
Standard formal - A button up shirt with clean leather pants and some sort of accessories.
Sleeping wear:
Typically nude or just underwear. If it's cold he will wear sweat pants.
Swimming wear:
Nude or simple solid colored trunks
Intellectual/Mental/Personality Attributes and Attitudes
Did they go to school?:
Not official - Just basic lessons and training of the Royal Ore Crown family.
Native language:
Ore mountain Dwarf
Do they know any other languages?:
Classic Dwarf, Lowland Dwarf, Elven, Fluent (not perfect) Vargin, Drow (Basic), Khajiit (basic)
How smart are they?
: Very intelligent, lacks some common sense.
What is their strengths?:
Physical work
Weaknesses?
: Sitting still for long periods of time for things such as planning.
Manner of Writing:
Messy and scratch-like.
Any Mental Illnesses?:
Mild rage issues - From his dragon's influence.
Character's short-term goals in life:
TBA
Character's long-term goals in life:
TBA
How does your Character see themselves?:
Poorly - Failure, cursed and broken
How does your Character believe they are perceived by others?:
Unknown, he tries not to think of such things, it only brings him down more.
How self-confident is your character?:
He is confident in his Blacksmithing work, but that's about it.
What makes their self-confidence waver?:
Just about everything outside of the forge. Social interactions can make him waver.
What would embarrass your character the most?:
Public affections, Affections of any kind tend to get him a bit shy.
How does your character feel about love:
The idea is something that gives him hope, but he feels he is too broken anymore for it. After being left by his Fiancé, he hasn't really been able to rebound yet.
About crime:
Its ridiculous and dumb, but he also understands why some people resort to it. He rather teach and help those that resort to crime than to blindly punish.
Politics?:
Politics, as annoying and painful as they can be, help the population live safely and happily. He doesn't enjoy it, but he supports it.
People of a different sexuality?:
Kivi has no room to judge in his heart. He accepts anyone and everyone, as long as they are not blindly harming others.
Different nationality/race?:
Kivi has no room to judge in his heart. He accepts anyone and everyone, as long as they are not blindly harming others.
How does your character show affection/love?:
TBA
How does your character handle grief?
Shuts down and grieves for days at a time.
What are they like when they cry?:
Fragile, weak and broken. He goes numb and raw when in tears.
What can make them cry?:
Loss is the major one.
How does your character handle physical pain?:
10 out of 10, can handle pain better than most warriors.
Emotional pain?:
He is pretty emotionally sensitive, depending on the subject.
Is your character typically a leader or a follower?:
In the forge, Leader. Follower everywhere else.
Are they 'big picture' or 'little details'?:
A bit of both. He always starts with a big picture, a big plan, then narrows it down to little details.
What kind of energy level does your character typically display?:
Calm and warm. Can get fairly energetic and boisterous, but he has to be relaxed for that.
Describe their sense of humor:
Typically clean and playful.
Hobbies:
Making Jewelry and Trinkets.
Talents:
Great at anything with metal and gems.
Extremely unskilled at:
Cooking. Dear god, his cooking is so bad, he normally goes to town for meals.
If any, what musical instruments can they play?:
Guitar - Skilled, Violin - Moderate, Piano - Moderate, Bass - SKilled,
Emotional Characteristics
How does character relate to others?:
How does the character deal with anger?:
Goes into the forge to beat some metal. If his anger goes too far, he tends to go off into the wilds alone for a while.
With sadness?:
Either keeps himself busy with work, or locks himself in his home for a while.
With conflict?:
Typically can keep a cool head and work out any conflicts.
With change?:
Change doesn't bother him much. He does his best to adjust.
With loss?:
Locks himself away for a while to work out the emotions.
What does your character want out of life?:
TBA
What would your character like to change in his/her life?:
One or all of the following:: Losing/Being fused with Oregin, losing his little brother Pietari, or having Alicia leave him.
What motivates your character?:
Typically to do better than he had the previous day.
What frightens your character?:
TBA
Are they afraid of the Dark?:
No
Death?:
No
What makes your character happy?:
Music, Food, Company are his three biggest ''happy'' factors.
Sad?:
Separation, Loss and loneliness.
Angry?:
Racism, Sexism and Pointless crime.
Aroused?:
TBA
Annoyed?:
Stupid errors on tasks, breaking of his wares.
Guilty?:
His brother's death, failing people.
Is your character judgmental of others?:
No. He feels he has no room to judge anyone, with the sins he has committed.
Is your character generous or stingy?:
Generous
Is your character generally polite or rude?:
Polite until he gets too anxious or someone is too stupid for too long.
Optimistic or Pessimistic?:
Pessimistic
Introvert or Extrovert?:
A bit of both. He loves to be social, especially in small groups, but he can become overwhelmed and shut down.
Daredevil or Cautious?:
Cautious. He used to be a daredevil, but he has toned it down as he's matured.
Logical or Emotional?:
Emotional. He tries to use logic as much as he can, but he sometimes struggles.
Disorderly and messy or methodical and neat?:
Methodical messy. He keeps his forge clean when he's not working, but when he is working, it's a mess, but he knows every everything is at all times.
Would they rather be working or relaxing?:
Working. Keeps him from thinking too much.
How do they feel about animals?:
Loves them. He loves having his horses, and loves seeing the other pets of the island. He really enjoys making custom tack/collars for peoples pets to really show the love.
They are most at ease when:
When at home or in the forge, no matter if he is working or not.
Ill at ease when:
In a fancy, crowded Town Hall event.
What is their best quality?:
Accepting and loving to anyone who needs it.
What is their biggest flaw?:
Doesn't take care of himself much.
Spiritual Characteristics
Do they consider themselves religious?
Mildly
What religion?:
Illiun ("Children of The Stone")
What God(s)/Goddess(s) do they believe in?:
No gods, but ancestors. He does believe in many other religion's gods, he just doesn't believe they care about him.
Why do they believe as they do?:
It's how he was raised, and he has no reason to NOT believe it.
How prominent is this in their life?
Mild to not
How far would they go in the name of their beliefs?:
Not far. Doesn't care enough about what the Ancestors think to let it judge his actions.
How strictly do they follow the rules of their religion?:
Not at all.
Additional Notes on This Character:
- His home is a combo of home and forge. The house is built almost on stilts, with stairs leading up into the full house. The house has a Kitchen, full bathroom with Shower and bathtub, Living room, small office/Library and a fairly large master bedroom. The forge is under the house, with large shutters that can form walls between the stilts of the home. These shutters can all open to the side or lift up to make the forge fully open on all sides. The forge has Four Kilns, six different work benches, various areas for storage of both wares and equipment. Behind the Forge, connected to the forge by a fence and gate, is a decent sized pasture where he keeps his two horses. The pasture has a small barn for the horses to get out of the elements, as well as a water trough that always has a small flow from the hose to keep the water fresh and flowing. Wild alfalfa grows in the back of the pasture.
Kivi was the first born to his King father and Queen mother. His beginning years were spent learning about how to be a good leader, playing, and taking care of his little brother, Pietari. When he turned 47 (about 16 in human years), he was chosen to go to the Great Gathering where the dwarven kingdoms united to let the next generation meet their dragon partners. Only the best of the best got a dragon, and they would grow up to be the peace-keepers of the country. Kivi was one of the lucky ones, and left with a Cavern Dragon named Oregin.
At the age of 55 (aprox 18 Human), Kivi and Oregin were investigating the rumors of a problem witch in the area of a small human village in their kingdom. The rumors appeared to be true, and the Dragon-Dwarf pair decided to take care of the problem. What they thought was a witch, though, turned out to be someone much stronger. Spell Binders, as his people called them. Masters of curses, plagues and ill-bringings. The two were soon victims of the Spell Binder.
Searing pain, and screams from Oregin. The world around him grew foggy and twisted. Darkness.
When he awoke, Oregin was no where to be found. He tried to search for him, but his back burned and crippled him. There was no echo of Oregin's voice in his mind, and he couldn't feel his warmth. Fear and panic engulfed him. Then the feeling of twisting in his own skin overwhelmed him. When he looked down again, he saw claws, not hands. Silvery hide instead of Skin. The spell binder had morphed Dragon and rider into one being.
When Kivi had regained himself, he returned home. He told everyone that Oregin had been killed. He was then banished for letting his dragon fall. Kivi's brother, Pietari, left their home with him.
Pietari was the only one to know the truth, and was determined to help Kivi break the curse.
Then, when Kivi was 65, him and his brother, as well as another companion, were ambushed by bounty hunters. They were wanted for the rumor that they were dragon slayers. Pietari didn't make it out alive.
Kivi soon met Siegfried, he recruited him to help make tack for horses. It was a simple job, that has expanded into his passion.
Theme Song: For The King - Adrian Von Ziegler