Post by Jacov on Jun 5, 2021 5:31:37 GMT -7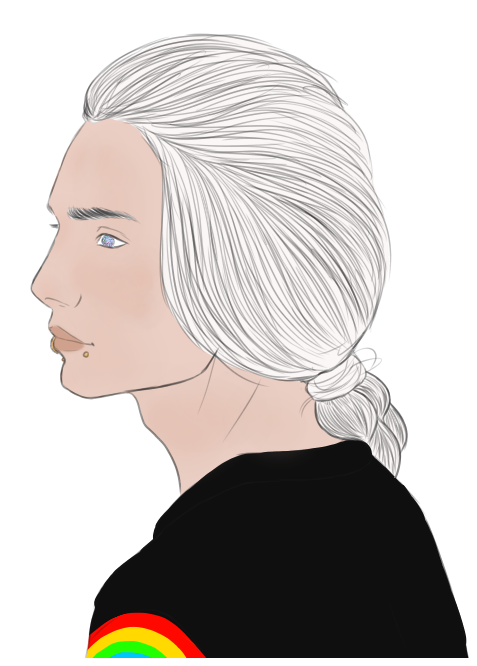 Basic Statistics
Full Name:
Rayne Scarborough [Unknown to Others]
Reason or meaning of name:
Nickname:
Panic [Always Called This]
How'd they get it?:
He earnt this many from panicking over the silliest of things.
Age:
27, looks 21
Date of Birth:
Unknown
Zodiac
: Unknown
Species:
Mimic [Unaware], Believe he is a Shape-shifter
Gender:
Currently Male
Sexual Orientation:
GAY AF
When did they realize this?:
Panic always knew his orientation
Nationality:
Unknown
Hometown:
Unknown
Current Residence:
Fayley
Occupation:
None
For how long?:
Do they like his/her job?:
Salary:
Abilities
If they had an element, what would it be?:
Water
Can they use it?:
No
What animal best represents them?:
Aside from a Bat, probably a Hamster
Hand-to-Hand capability:
Non-existent
When did they start learning?:
Who taught them?:Weapons training:
Non-existent
When did they start learning?:
Who taught them?:Physical strength:
Low
Speed:
Average
Planning:
Low
Powers:
None [Untapped]
Family
Any significant ancestors?: Grandparents (describe relationship):Aunts/Uncles (describe relationship):Parents (describe relationship):
He loves his parents very much and is grateful for their sacrifices in raising him to be who he is today. His mother [Dianna] and father [Brodie] have always encouraged their adopted son to be a kind person. He is unaware of his biological parents, never told that he was adopted.
Are they still together?:
Yes
Birth order:
Seth, David, Rhiannon, Lily, Kylie, Panic
Siblings (describe relationship):
Panic loves his siblings equally.
Nieces/Nephews:Children (describe relationship):
Are all children with the same partner?:
Is their relationship with their children important to character?:
Grandchildren (describe relationship):
What is the character's family life like:
Always full of excitement and on the go, fun/
What does their family love most about them?:
His innocence and ability to see the good in othes
Hate?:
Whilst not hate as such, they don't like his naivety towards the world as much as it is endearing.
Does the family have a specific set of values?:What would their family be described like by another person?:
Bubbly, kind and generous
Have they ever had any pets?:
What happened to them?:
Relationships
Are they a virgin?:
Yes
How did they lose it?:Have they ever cheated on a partner?: Has a partner ever cheated on them?:
How did they react?:
Who was their first crush?:
First love?:Have they ever been married?:
Divorced?:
How many times have they been married/divorced?:Are they in any kind of romantic relationship?:
No
How serious/relaxed is it?:Describe the relationship with their current partner:
How did they meet?:
Who made the first move?:
How does your character truly feel about their partner?:
When did they realize this?:Who is your characters closest friend?:
How did they meet?:
Why do they get along so well?:Describe relationship with any other significant friends:
Favorites
Favorite foods:
Strawberries and Crickets [Yes, Insects are on the menu]
Least favorite food:
Salads
Favorite colors:
All the colours!
Least favorite color: Music:
Anything with a good bounce
Literature:
Sappy Romance
Smell:
Crisp, Cold Air after Snowfall
Feeling:
Cuddles
Season:
Spring
Pets:
--
Place:
Beaches or Mountains
Favorite sport(s):
Favorite Sayings:
Possession this character values most:
A single rainbow fuzzy anklet sock
Why is it so important to them?:
It's all he has to remember his family. His mother gave it to him for his travels, and each colour corresponds to a family member.
Physical Characteristics
Height:
5'6"
Weight:
Average for Size
Body build:
Soft
Eye Color:
Pastel Galaxy [Mostly Purples and Blues
Glasses or contact lenses?:
Hair Color:
White
Type of hair:
Long, Thick
Hairstyle:
Messy bun or braid
Complexion and skin tone:
Pale, healthy, unblemished
Any particular blemishes?:Shape of Face:
Heart
Scent:
Peaches and Mint
Voice:
Bright, soft
Voice Play-by:Mannerisms:
Lots of hand gestures, eye contact and smiles
Health:
100%
Style: (Elegant, shabby etc.)
Casual, Baggy, almost Shabby
How do they walk?:
With a little bounce in his step
What are their Nervous Tics:
Looks away, plays with his hands and shuffles his feet about unable to stay still
Usual Body Posture:
Relaxed
Do they have any disabilities?:
No
Speech patterns:
Slightly stuttered when over excited, but otherwise clear and easy.
Preferred Clothing:
Bright colours with accents of white or black
Underwear:
Always Briefs
Shirts:
Any kind
Pants:
Jeans or cotton
Skirts:
Pleated over top of trousers or shorts
Jackets:
Hoodies
Shoes:
Combat or general sneakers/joggers
Accessories:
Facial piercings that double as tacks for his sock
Formal wear:
Sleeping wear:
Undies
Swimming wear:
Intellectual/Mental/Personality Attributes and Attitudes
Did they go to school?:
Yes
Where?:
At home
What did they learn?:
Basic Education
Did they complete the curriculum?:
Yes
What were their grades like?:
A little above average
Native language:
Common
Do they know any other languages?:
No
How smart are they?
: Just above Average
What is their strengths?:
Creative Stuff
Weaknesses?
: Science and Sports
Manner of Writing:
Cursive
Any Mental Illnesses?:
No
Character's short-term goals in life:
Be happy
Character's long-term goals in life:
See the world
How does your Character see themselves?:
Bright, loving and caring
How does your Character believe they are perceived by others?:
Silly but sweet
How self-confident is your character?:
Decently
What makes their self-confidence waver?:
Angry people
What would embarrass your character the most?:
Being seen in his sock
How does your character feel about love:
Positively - everyone can achieve it if they want it
About crime:
It's bad
Politics?:
Complicated
People of a different sexuality?:
Fine - whatever makes people happy
Different nationality/race?:
Doesn't care, everyone is fascinating
How does your character show affection/love?:
Lots of physical touch
How does your character handle grief?
What are they like when they cry?:
What can make them cry?:How does your character handle physical pain?:
Not great, anything above a cut / scrape is the limit
Emotional pain?:
Is your character typically a leader or a follower?:
Follower
Are they 'big picture' or 'little details'?:
All the details
What kind of energy level does your character typically display?:
Consistently on the move
Describe their sense of humor:
Immature
Hobbies:
Talents:
Can touching his nose with his tongue count?
Extremely unskilled at:
Anything requiring strength or athletic ability
If any, what musical instruments can they play?:
Emotional Characteristics
How does character relate to others?:
How does the character deal with anger?:
With sadness?:
With conflict?:
With change?:
With loss?: What does your character want out of life?:
Happiness
What would your character like to change in his/her life?:
Nothing
What motivates your character?:
Positivity
What frightens your character?:
Are they afraid of the Dark?:
No
Death?:
A little bit
What makes your character happy?:
His sock, food and nice people
Sad?:
TBA
Angry?:
TBA
Aroused?:
TBA
Annoyed?:
TBA
Guilty?:
TBA
Is your character judgmental of others?:
Nope
Is your character generous or stingy?:
Generous
Is your character generally polite or rude?:
Polite
Optimistic or Pessimistic?:
Optimistic
Introvert or Extrovert?:
Extrovert
Daredevil or Cautious?:
Cautious
Logical or Emotional?:
Depends
Disorderly and messy or methodical and neat?:
Messy
Would they rather be working or relaxing?:
Relaxing
How do they feel about animals?:
They're cute
They are most at ease when:
Relaxing
Ill at ease when:
When disturbed from his sock
What is their best quality?:
Kindness
What is their biggest flaw?:
Loyal to a fault
Spiritual Characteristics
Do they consider themselves religious?
Nope
What religion?:
What God(s)/Goddess(s) do they believe in?:
Why do they believe as they do?:How prominent is this in their life?How far would they go in the name of their beliefs?:How strictly do they follow the rules of their religion?
:
Are there any things they do specifically they aren't suppose to?:Additional Notes on This Character:
- Panic believes completely that he is just a very simple shape-shifter that turns into a White Honduran Bat. He has no idea he's a Mimic.
- Has no permanent home, he travels about and sets up his home inside a fuzzy sock; he uses his lip piercings to take the sock onto trees, bushes etc.
- Hasn't been on Fayley Island for long.
- Isn't sure how he got to Fayley, but it's a nice place and isn't likely to leave any time soon.
- Is not a known / registered citizen at town hall.
- Loves all things rainbow.
- Would absolutely love a plushie of some kind, but he can't afford it; he thinks they would be amazing to cuddle up to.
Theme Song:
Only the Beginning of the Adventure [Narnia Soundtrack]