Post by Matsi on May 8, 2021 21:40:16 GMT -7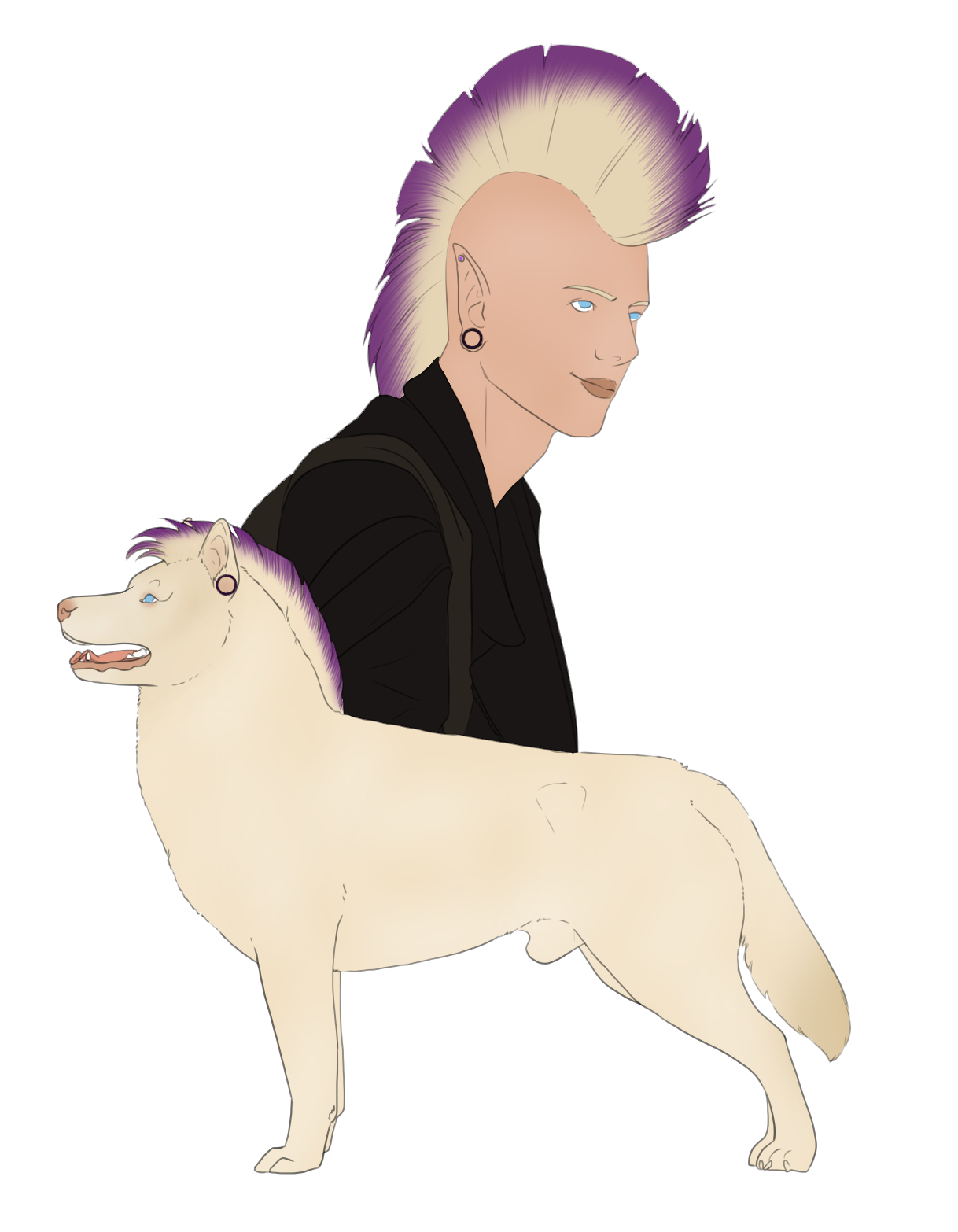 Basic Statistics
Full Name:
Beau Adam Monroe
Reason or meaning of name:
Beau - Named after American Poet, Beau Sia.
Adam - His dad's name
Nickname:
Boo, Bam, Vanilla
How'd they get it?:
Boo - His little cousin's nickname for him when they were all little.
Bam - His Initials B.A.M.
Vanilla - From his fair hair and skin, as well as his mild temperament.
Age:
25 Years
Date of Birth:
September 7th
Zodiac
: Virgo
Species:
Vargin - Pure Coastal Sub-type
Gender:
Male
Sexual Orientation:
Bisexual - leans more Heterosexual normally.
When did they realize this?:
He's known since he was about 17, but has kept it pretty secret since his parents are pretty conservative.
Nationality:
Coastal, Centrium Born; Orlando, Florida, America, Gaia raised.
Hometown:
Orlando Florida, Gaia
Current Residence:
Common district, Fayley
Occupation:
Musician, Prospective Record Label Producer/Owner, Professional Elephant Trainer, Licensed Circus Performer.
For how long?:
Musician for the last 5 years
Do they like his/her job?:
Loves it, but much rather produce music for others.
Salary:
TBA
Abilities
If they had an element, what would it be?:
Air
Can they use it?:
No
What animal best represents them?:
Aside from Canine -- Parrot
Hand-to-Hand capability:
Minimal - Never learned officially
Weapons training:
None
Physical strength:
Average
Speed:
Average
Planning:
Slightly Above Average
Powers:
None
Family
Any significant ancestors?:
None he knows of
Grandparents (describe relationship):
Unknown Biological
Grandpa Monroe - An uptight, grouchy old man. Beau never really got along with the man, but he still admires him in a strange way.
Grandma Monroe - Uptight, a bit entitled, Beau never really liked his grandmother's attitude, but he did like how she spoiled him.
Gram Flint - Deceased - Gram Flint was his main baby sitter when he was growing up, and he became extremely close to her. Her passing was part of his decision to move away from Florida.
Gramps Flint - A sweet old working class man that has been cursed with Alzheimer's. Beau visited Gramps as much as he could, but when the man no longer had any memory of him, he decided it was time to try to take the loss.
Aunts/Uncles (describe relationship):
Unknown Biological Family
Mary Lou - Aunt on Mother's side - Sweet woman that is a bit overwhelming.
Joe Bob - Uncle Mother's side - Hard working man that freaks Beau out a bit.
Daisy May - Aunt Mother's side - Quiet and reserved woman that Beau liked to take walks with when he was little.
Jonathan - Uncle Dad's side - Was never close to Jonathan, he was too stuck up and egotistical.
Parents (describe relationship):
Unknown Biological Parents
Mary Belle Monroe (Flint) - Adoptive Mother - A down-home type woman with a heart bigger than anything else. She is always cooking and caring for others. - Beau adored his mother, and he spent a lot of time with her. She often worried more about his happiness and health over his wealth and future.
Harrison Monroe - Adoptive Father - A business man through and through. He works hard, and thinks others should do the same. Beau doesn't always agree with his father, and can clash with him. That being said, he knows his father just is looking out for him and his future.
Are they still together?:
Yes, 27 years stong.
Birth order:
N/a
Siblings (describe relationship):
Unknown Biological siblings - No Adoptive Siblings.
Children (describe relationship):
N/a
Are all children with the same partner?:
Is their relationship with their children important to character?:
Grandchildren (describe relationship):
N/a
What is the character's family life like:
A mix of classic Southern and Wealthy Upper-class. He was raised in a home with an eye for Financial stability, and pampering with love.
What does their family love most about them?:
His open mind and ability to adapt.
Hate?:
His unwillingness to change in a way that would make him fit in better.
Does the family have a specific set of values?:
Love each other, always have food ready for guests.
What would their family be described like by another person?:
Loving and successful.
Have they ever had any pets?:
Not while at home, but once he left, Yes.
Dixie Sue - African Elephant - 11 Years old - Sweet, playful and energetic Elephant. Was trained originally for acrobatic type tricks. Enjoys performing and loves people.
Devika - Asian Elephant - 32 Years old - Quiet, loving Elephant. Was used for photos and elephant rides originally, but has since learned and enjoys other tricks such as Painting.
What happened to them?:
Has them both still. -- He rescued both of them from a small town, unethical circus. The money he used was supposed to be his start up funds for his Record Label, but he thought the Elephants were more important.
Relationships
Are they a virgin?:
Yes
How did they lose it?:Have they ever cheated on a partner?:
No, he's never actually been in a relationship.
Has a partner ever cheated on them?:
How did they react?:
Who was their first crush?:
Juliette - A girl from his middle school.
First love?:
TBA
Have they ever been married?:
No
Divorced?:
How many times have they been married/divorced?:Are they in any kind of romantic relationship?:
No
How serious/relaxed is it?:Describe the relationship with their current partner:
How did they meet?:
Who made the first move?:
How does your character truly feel about their partner?:
When did they realize this?:Who is your characters closest friend?:
Pending
How did they meet?:
Why do they get along so well?:Describe relationship with any other significant friends:
Favorites
Favorite foods:
Sushi
Least favorite food:
Jelly Beans
Favorite colors:
Purple
Least favorite color:
Yellows
Music:
Rock and Pop
Literature:
Not into reading enough to really have a favorite.
Smell:
Freshly popped popcorn
Feeling:
Elephant skin under his hands.
Season:
Summer
Pets:
TBA - Loves his elephants, but he knows they don't classify as pets.
Place:
TBA
Favorite sport(s):
TBA
Favorite Sayings:
TBA
Possession this character values most:
His chain charm necklace.
Why is it so important to them?:
He has a necklace with two steel chain links on it. One link was from Devika's leg shackle, and one was from Dixie Sue's.
Physical Characteristics
Height:
6'1''
Weight:
152lbs
Body build:
Lean muscled with a streamline build.
Eye Color:
Fair blue
Glasses or contact lenses?:
None
Hair Color:
Platinum blonde
Type of hair:
Silky and thick
Hairstyle:
Typically kept in a mohawk. When it isn't gelled up, he has it pushed back and some times in a pony tail.
Complexion and skin tone:
Very fair with a slight grey-gold undertone to his skin. Has no real changes in his complexion.
Any particular blemishes?:
Has a bad scar on the back of his left leg from an accident while learning some fire dancing.
Shape of Face:
Triangular with a fairly strong chin and jaw. Pointed features.
Scent:
Slightly sweet with a musky undertone.
Voice:
TBA
Voice Play-by:Mannerisms:
Quiet and almost shy.
Health:
Very healthy and fit.
Style: (Elegant, shabby etc.)
High class rocker or Punk
How do they walk?:
Tall with his hands at his side or in his pockets.
What are their Nervous Tics:
Bites his nails.
Usual Body Posture:
Tall, with chest out and head high.
Do they have any disabilities?:
None
Speech patterns:
Starts off proper and smooth. As he gets more comfortable, he gets more slang-filled, choppy and gruff.
Preferred Clothing:
Black T-shirt with black (or dark blue) jeans, a jacket and boots.
Underwear:
Boxer Briefs, normally. Usually black and made of a faux silk material.
Shirts:
Cotton T-shirts typically.
Pants:
Dark colored jeans
Skirts:
No opposed! He would be willing to try some!
Jackets:
Leather is his favorite, but loved thick, heavy hoodies too.
Shoes:
Work boots or combat style boots.
Accessories:
Two ear piercings in each ear. Nothing else unless performing.
Formal wear:
TBA
Sleeping wear:
In his underwear, typically.
Swimming wear:
Purple swimming trunks with Indian-styled elephants on them.
Intellectual/Mental/Personality Attributes and Attitudes
Did they go to school?:
Yes
Where?:
Home Schooled k-9, Orlando High 10-12. Cirque De Solei School of Performance (4 years), University of Florida for Musical Studies (2 years)
What did they learn?:
Basic education (home school and Orlando High), Circus performance and business (School of Performance), Musical Business and Recording (UoF)
Did they complete the curriculum?:
Basic Education - Yes. Performance School - Yes. University Of Florida - Got his bachelors.
What were their grades like?:
A couple "A"s, A couple "B"s and a couple "C"s. Always passing.
Native language:
Common
Do they know any other languages?:
Basic Spanish, Basic French, Basic Latin, Basic African.
How smart are they?
: Depends on the subject. He doesn't really stand out when it comes to his smarts.
What is their strengths?:
Patience and Acceptance.
Weaknesses?
: A bit naïve to the evils of the world.
Manner of Writing:
Elegant and script. Looks very femme.
Any Mental Illnesses?:
None.
Character's short-term goals in life:
To find a safe, happy place for himself and his Elephants.
Character's long-term goals in life:
To join one of the Hidden Oasis' circuses and perform center ring.
How does your Character see themselves?:
Confident and goofy.
How does your Character believe they are perceived by others?:
Confident and strange.
How self-confident is your character?:
Moderately. He feels pretty confident in himself, but can appear just awkward.
What makes their self-confidence waver?:
People calling him out for being different.
What would embarrass your character the most?:
TBA
How does your character feel about love:
TBA
About crime:
It frightens him. It happened all around his home town, but luckily, he never had to see it first hand.
Politics?:
Eww.
People of a different sexuality?:
Has no opinion. Why should he have one? If they are happy doing what they want, then that's all that matters.
Different nationality/race?:
He loves all races and nationalities. He hasn't been exposed to much other than Humans, though.
How does your character show affection/love?:
TBA
How does your character handle grief?
What are they like when they cry?:
What can make them cry?:How does your character handle physical pain?:
He's not the toughest guy out there, but he can keep a straight face for a while.
Emotional pain?:
TBA
Is your character typically a leader or a follower?:
Follower
Are they 'big picture' or 'little details'?:
Big picture
What kind of energy level does your character typically display?:
When you first meet him - Calm, cool, collected and maybe a bit of awkward Shyness. As you get to know him - Boundless energy and excitement. He has a lot of passion for life, and will share it with everyone.
Describe their sense of humor:
Ranges, depending on who he is with.
Hobbies:
Training Animals, Horse/Elephant back Acrobatics
Talents:
Acrobatic, Flexible, patient, Nack for animals.
Extremely unskilled at:
Anything physically artistic such as painting, carving etc.
If any, what musical instruments can they play?:
Guitar, Piano, Some Violin.
Emotional Characteristics
How does character relate to others?:
He enjoys filling their eyes with wonder and passion.
How does the character deal with anger?:
He tends to go quiet and shut out the world.
With sadness?:
TBA
With conflict?:
With change?:
He thrives in change. He loves to adapt and overcome.
With loss?: What does your character want out of life?:
To perform in a notable circus... Maybe have his father actually proud of his route in life.
What would your character like to change in his/her life?:
Disappointing his dad by telling him he was Bisexual and wanted to perform in circuses.
What motivates your character?:
To better his performances.
What frightens your character?:
TBA
Are they afraid of the Dark?:
Yes - He has a light on at all times, even if it's just a night light.
Death?:
No
What makes your character happy?:
Bright colors, music and anything light hearted and fun.
Sad?:
Animal neglect.
Angry?:
TBA
Aroused?:
TBA
Annoyed?:
TBA
Guilty?:
Any time his life choices or sexuality comes up.
Is your character judgmental of others?:
No, he tries to accept people for what and who they are.
Is your character generous or stingy?:
Generous.
Is your character generally polite or rude?:
Polite. It is hard for him to be rude.
Optimistic or Pessimistic?:
Optimistic, though pessimism can haunt him some times.
Introvert or Extrovert?:
A very Extrovert Introvert. He is very bold and colorful when comfortable or performing, but otherwise much to himself.
Daredevil or Cautious?:
Daredevil
Logical or Emotional?:
Emotional
Disorderly and messy or methodical and neat?:
Neat and usually organized.
Would they rather be working or relaxing?:
Working. He loves working on his tricks with his Girls.
How do they feel about animals?:
Loves them. They are the most important thing in the world to him.
They are most at ease when:
Sun bathing with his Elephants.
Ill at ease when:
TBA
What is their best quality?:
Eagerness to accept others from all walks of life.
What is their biggest flaw?:
Very Naive to the ways of some people.
Spiritual Characteristics
Do they consider themselves religious?
Not at all
Additional Notes on This Character:
- He was taught at a young age to keep his Vargin traits hidden, since Humans of Gaia didn't like other races. So grew up keeping himself hidden from the world.
- He shifted into his biped form when he was 3, and was shortly after adopted by the Monroe family.
- He has no idea what happened to his biological parents.
- From the age of 6 to 24, he never shifted into his Feral form. He only recently started embracing that form again.
- First had interest in Circus performing when was was 6 years old, and his family went on Vacation to Las Vegas. There, they watched the Hidden Oasis Circus.
- When he heard that Fayley had the ''sister'' circus of Hidden Oasis, The New Moon circus, he made it his goal to move to Fayley.
- At the age of 24, his father gifted him all the money he would need to start a Record Label company. Instead, Beau went and rescued his two Elephants and has been travelling place to place, searching for a circus that will take him and the girls.
- His elephants are the loves of his life. He does everything and anything for them.
Theme Song:
Shifted Form
Species:
Vargin - Wolf-Dog Build - Non Regal
Fur or scales?:
Fur
What color are they?:
Blonde-Cream
Distinct markings:
None -- His hair dye does cause his fur to be dyed in fun colorss
Weight:
100lbs
Height at shoulders:
30in
Length, nose to rump:
5'5"
Added tail length?:
2ft
Any wings?:
NONE
Do they have full control?:
Yes
How do they shift?:
Sudden, split second shift of form.
Special Abilities:
None
Sense of smell:
Average Canine
Vision:
Average
Speed:
Average
Fighting Abilities:
Minimal